Federici's Paterson: A Walking Tour of His Public Art in Paterson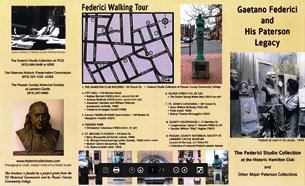 Click here to view or download a printable walking tour brochure
This Google Map shows key locations from the Walking Tour
(marked in red) & other places described on this page.
You may zoom in/out & click on locations for more information & a street view.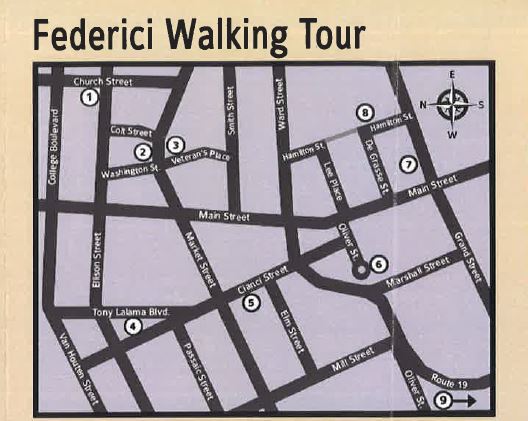 ---
Federici Walking Tour

1. Hamilton Club Building at 32 Church Street:
Federici Studio Collection at Passaic County Community College
contains 200 sculptures on display throughout the historic building, and the artist's studio is recreated on the third floor.
2. City Hall, Market and Colt Streets:
Mayor Nathan Barnert
(1925) and
Mayor Andrew McBride
(1947) flank the central bronze memorial to Vice President Garret Hobart (Philippe Martigny, 1904). Inside City Hall (second floor) are three reliefs: companion portraits of
Alexander Hamilton
and
William Paterson
(1936), the city's founder and namesake, respectively, and the
Tribute to Arcangelo Corelli
(1938), which commemorates one of the sculptor's favorite musicians. A portrait-gallery includes colleagues on the Board of School Commissioners (of which Federici was a member), American composer Edward MacDowell, Deanna Durbin, and the sculptor's wife and son.
3. Chase (formerly Franklin) Bank, corner of Market St. and Veterans Place: a portrait bust of
Benjamin Franklin
(1927) decorates the entry pediment of the bank.
4. Federici Park: monument of
Christopher Columbus
(1953).
5. St. Michael's Church and School
,
historic center of Paterson's Italian community: at corner of Cianci and Ward on the left is the school with three small decorative reliefs, a portrait of the foundress of the Salesian teaching sisterhood,
Mary Mazzarello
(1949), flanked by
two schoolchildren
. One block further is the church for which pastor Carlo Cianci, a compatriot of Federici's from Castelgrande, commissioned the lunette relief,
St. Michael Overpowering Lucifer
, when the church was rebuilt in 1928. In the foyer of the church is a rare Federici oil portrait,
Mother Cabrini
(1944); and inside, directly to the left of the main door, is the marble relief
St. Blaise
(1934), a favorite devotional figure for southern Italians.
6. Intersection of Mill and Oliver: the
Dublin Spring Water-Boy
(1931), perhaps Federici's most lovable monument, designed to commemorate the closing of a popular public spring in this once predominantly Irish workers' neighborhood. The relief on its pedestal immortalizes the sculptor's own bulldog, "Teddy."
7. St. John's Cathedral, Main and Grand Streets, bronze tribute to
Dean William McNulty
(1923-24), honoring the beloved parish priest, whose grave lies at the base of the statue and is marked by a relief
Pietà
(1924). On the opposite side of the Cathedral entrance is the imposing figure of Paterson's first Catholic Bishop,
Thomas McLaughlin
(1957), Federici's last major commission, which he survived a heart attack to complete.
8. County Courthouse, corner of Ward and Hamilton Streets: two major bronzes flank the neoclassical façade, the monument to
Congressman James F. Stewart
(1905), Federici's first public commission, and the memorial to popular Labor
Senator
William "Billy" Hughes
(1927); a small relief memorial to
Christopher Edell
(1954), active veteran and sheriff.
9. Lambert Castle Museum, on the outskirts of Paterson at 3 Valley Road, a
collection of Federici statues, reliefs
and lunettes
have been restored by the Passaic County Historical Society.
---
More in Paterson...
The offices of the Paterson News, Market St. at News Plaza: a relief portrait of founding publisher Edward B. Haines (1911).
Hinchliffe Stadium, McBride Ave: three Federici bronze plaques commemorating champion runner Eleanor Egg (1932) and champion swimmer Al Vande Weghe (1934), and the cast-stone Roman Gladiator (1935).
Pennington and West Side Parks: two major World War I memorials—The Hayden Heights Memorial (1930) on the west side of McBride Ave., about half-a-mile from the Falls; and the poetic figure of America (1920) in West Side Park (entrance on Totowa Ave., on the other side of the river).
Holy Sepulchre Cemetery, Totowa Ave: the Federici Family Monument (1904).
Laurel Grove Memorial Park: cast-stone Spirit of the Resurrection (1936), designed originally as a fountain.
Eastside Park: Thomas McCran (1927), Pulaski (1929), and Columbus (1953) monuments, plus the decorative reliefs on the Civil War Memorial obelisk (1922). Cedar Lawn cemetery, route 20: site of the Brandes memorial, The Resting Pilgrim (1916), and the marble tablet, Our Lady of Consolation (1921) on the De Rosa family monument.
Minor Federici works are scattered in churches around the city: The Last Supper altarpiece (1917) and four memorial tablets (1916-27) in St. Joseph's Church (Market and Carroll Streets); a bronze relief of Rev. Christian Pfister (1955) outside Our Lady of Victories at Broadway and Memorial Dr.; the Eucharistic Sacred Heart (1917) over the main doorway of the Blessed Sacrament Parish Center on 16th St. at 6th Ave.; and the Coat-of-Arms of William Prince of Orange (1915) over the main door of Faith Chapel (formerly Church of the Covenant) at Broadway and E. 27th St.
---
In Surrounding Towns…
Haledon's Absalom Grundy School, Barbour St.: World War I Memorial (1921).

Clifton's Fire Dept. Headquarters, Broad and Van Houten Streets: bronze relief Vesta (1932);

Passaic has the Crucifixion (1952) at St. Anthony's Church, as well as a lunette and several interior sculptures at St. Stephen's R.C. Magyar Church (1904).

Other funerary monuments include companion bronze portraits of Nathan and Miriam Barnert (1908) in a private mausoleum at Mt. Nebo Cemetery, Totowa; the Baeurle Family Monument (1934) in Immaculate Conception Cemetery, Montclair; and the relief bronze De Lorenzo Memorial (1926) in St. Joseph's Cemetery, Hackensack.

Those especially interested in academic sculpture will find a wealth of other works in Paterson, "city of monuments," some executed by major Federici contemporaries. In addition to the Martigny's Hobart (City Hall) and the Simmon's Hamilton (Haines Park), there are Evelyn Longman's Mary Danforth (1907) in the entrance foyer of the Paterson Free Public Library at Broadway and Auburn Streets; Albert Jaegers' Monsignor Anthony Stein (1922) in Roberto Clemente Park (Market and Carroll Streets.); George Brewster's Charles Curie in Eastside Park; and Karl Bitter's Prehn Mausoleum (1912) in Cedar Lawn Cemetery.


---