In addition to Federici's public monuments and statues around the city, bronze and plaster sculptures are on exhibit at Passaic County Community College's Hamilton Club. PCCC is the home for the Federici Studio Collection.

Shortly after Federici died in 1964, his studio collection was sold by his family to an old friend and admirer, Clifton contractor John Saveriana. In 1978, Saveriana sold the items to Joseph Randazzo, a collector, who later auctioned all 215 pieces. A group of Paterson residents formed the Federici Collection Inc. to acquire the collection, and the Martini Foundation bought it on their behalf and later donated it to the College.

The collection was designated in September 2000 as an Official Project of Save America's Treasures, a partnership between the White House Millennium Council and the National Trust for Historic Preservation. Preserving this collection of more than 500 objects is an important means of celebrating the historic, artistic, and cultural heritage of Passaic County, New Jersey and the country.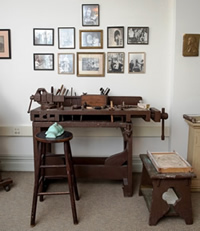 The Federici Studio Collection is part of the permanent art collection at PCCC. It includes models for some of Federici's more famous statues, including Father McNulty, and for a World War I memorial in Paterson.

The sculptor's studio was filled with plaster sculptures, molds, plaques, tools, furniture, photographs, and other memorabilia that is on view throughout the Hamilton Club.

Federici's studio workshop has been recreated in a room on the third floor.

Tours, led by the gallery curator, are available for school and community groups and the general public. For more information. See the PCCC Art Galleries website for more information.






Gaetano's family visits the studio during the creation of the WWI statue

In the studio with plaster model of Andrew McBride.

McBride bronze at Paterson City Hall

Gaetano's son, Tony, models for the statue of General Casimir Pulaski. He was a general in the Continental Army and created the Pulaski Cavalry Legion and fought in several key battles in New Jersey.

Pulaski plaster model

Dublin Spring Water-Boy plaster

Plaster head study of Dean McNulty

Bishop McLaughlin at St. John's Cathedral

Working on the plaster model for
the Bishop McLaughlin statue

Working on a bust of Benjamin Franklin

Plaster model of Franklin as displayed in the PCCC collection.

Final bronze version of Franklin

Many smaller works are displayed in cases throughout the Hamilton Club.

Study for "Spirit of the Resurrection"

"Spirit of the Resurrection"

Self-Portrait 1926


Orsola Federici
Painted by Gaetano around 1909

Elizabeth and Alexander Hamilton

Studies for the Christopher Columbus statue

Plaster Columbus model

Final bronze of Columbus in Federici Park

Comedian Lou Costello visits the studio to see a bust being made of him.
Costello was born Louis Francis Cristillo on March 6, 1906, at 14 Madison St. in Paterson's Sandy Hill section.

Plaster bust of Lou Costello

Conducting a class in the studio


Federici's studio workshop has been recreated in a room on the third floor of the Hamilton Club building.

Workbench

Studio Views

"Girl Balancing Balls"

Mold for casting of Gaetano and his wife

Casting of the Federicis

Collection of Federici's tools displayed in the studio

Nike Winged Victory

Anthony Federici

Sketch of "Ferdinand and Isabella"

Pencil sketch of Pulaski

A Tribute to Arcangelo Corelli