Gaetano Federici (1880 – 1964)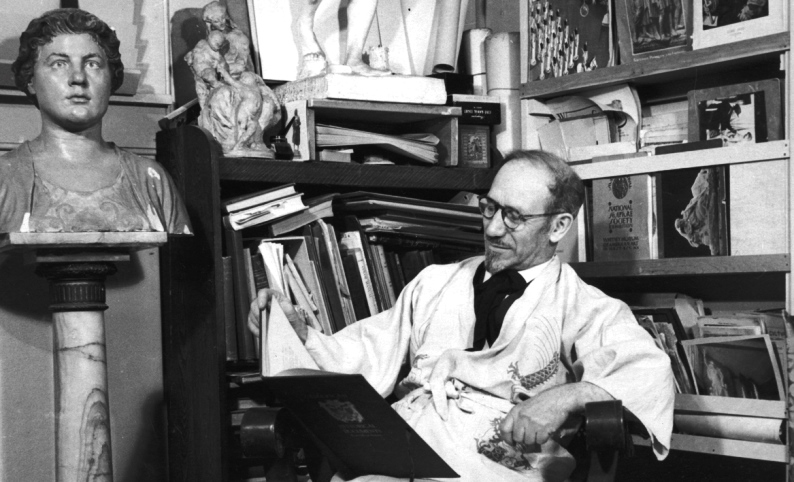 The Early Years
Gaetano Federici was born in the mountain village of Castelgrande in southern Italy, and emigrated to the U.S. in 1887. He and his mother settled in Paterson, New Jersey, with his father, Antonio Federici, who had already established himself as a mason and builder in this booming, industrial city. During the great era of civic monument-making, a teenage Gaetano left Paterson to study with major bronzemakers, such as Giuseppe Moretti and Charles Henry Niehaus.
Paterson's Darling
After learning at the feet of the masters, Gaetano was drawn back to his hometown. His first major commission was a sculpture of Congressman John Stewart, which was unveiled in front of Paterson's County Courthouse. The Paterson News put a picture of Gaetano on the first page, and from then on he was "Paterson's darling." His fame spread thanks to two newspapermen, George Burke and Harry B. Haines, and the 1924 unveiling of another commission – Federici's tribute to Dean McNulty, founder of St. John's Cathedral. His next undertaking was Nathan Barnert in City Hall Plaza.
Sculptor Laureate of Paterson

Over the next 60-plus years, Gaetano beautified his adopted city, completing about forty commissioned public monuments within a two-mile radius of Paterson's City Hall. Politicians, philanthropists, religious figures, even composer Richard Wagner, were subjects for the talents of the man now known posthumously (as of 1964) as the "sculptor laureate of Paterson."
Federici Collections

Some of Federici's artwork is owned by the city and managed by the Paterson Historic Preservation Commission, which is responsible for protecting, promoting, and preserving the City's historic environment. Though some of Federici's sculptures, plaques and lunette carvings are on city property, others are on the grounds of private properties and churches, such as
St. Michael Overpowering Lucifer
atop St. Michael's Church door. Also, many of the pieces in The Federici Studio Collection at Passaic County Community College showcase the elaborate process the artist undertook to craft these huge bronze statues. Another collection of Federici plaster statues and plaques have been sponsored for restoration and are under the care of the Passaic County Historical Society, which operates the Lambert Castle Museum.
His Legacy
More than fifty years after his death, the organizations responsible for Federici's legacy would like to ensure his story reaches as many people, as possible. As Federici wrote: "The artists' work that will survive are true likenesses of people, things and events." That is why Federici lives on through his artwork, telling the history of Twentieth-Century Paterson through his lifelike bronze sculptures.
Linked Resources